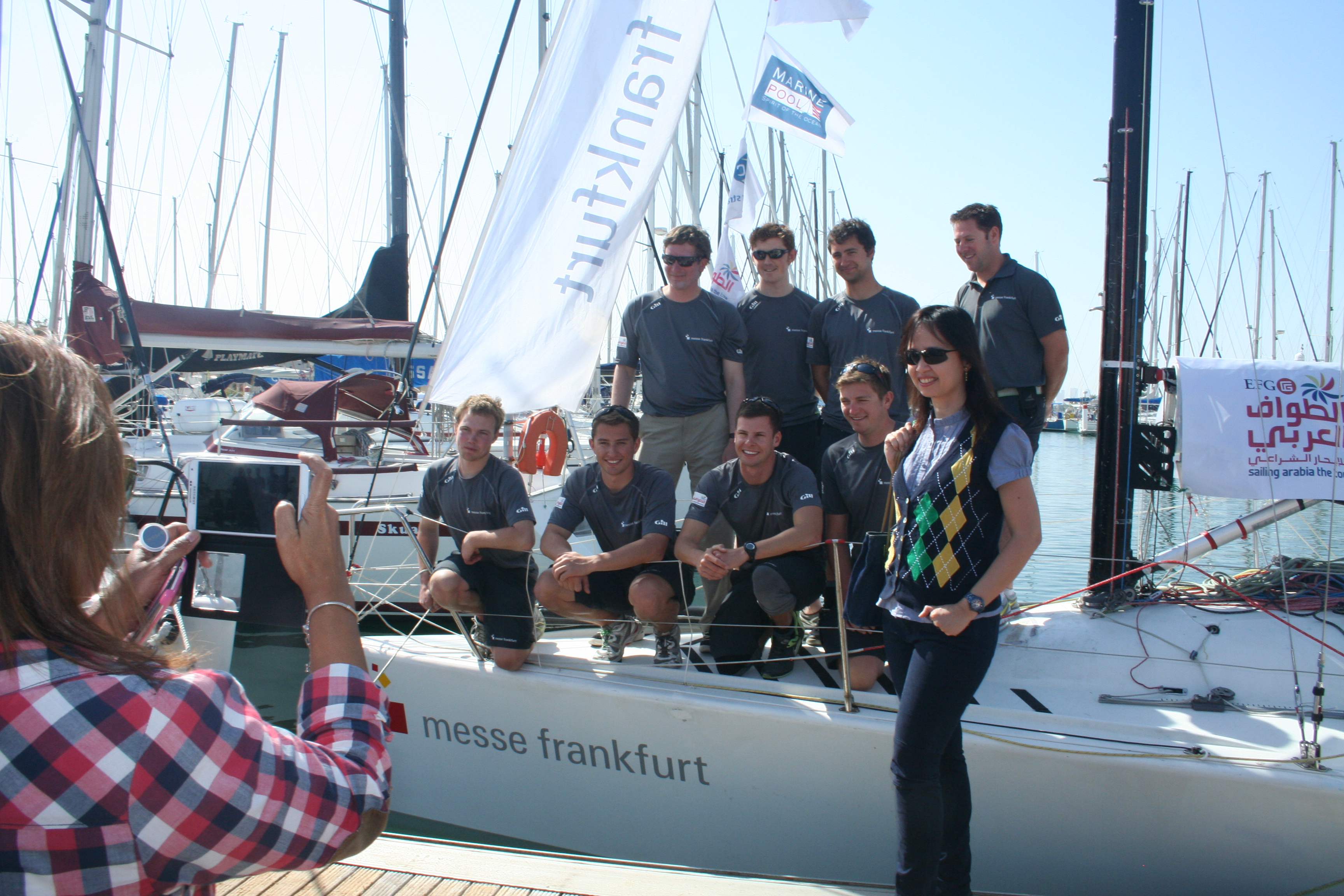 Consistency keeps Messe Frankfurt on the podium in Sailing Arabia The Tour 2014
With only three legs of EFG Sailing Arabia The Tour to go, Messe Frankfurt remain in second place overall and are prepared to challenge the leaders for first place over the remaining six days of the regatta.
The young team lead by 21 year old Marcel Herrera have had a good string of results in the event and their consistent second place in every offshore race so far has allowed them to maintain their podium position confidently by over nine points ahead of third place. However, at just four points behind first place, the talented team from Europe are determined to fight their closest rivals EFG, crewed by worldwide renowned professional sailors, for the winning spot.
Leg four of the tour saw the six boat fleet sail from Dubai to Ras al Khaimah in a fresh 12-15 knot breeze. The turquoise blue waters of Dubai provided a welcoming start to the leg that was to challenge the team's endurance as well as navigational skills. With multiple fishing areas and exclusion zones to contend with the crew remained alert throughout the night to ensure they didn't become entangled with unwanted debris. After a troublesome start due to some technical difficulties onboard, the team made back the time and were soon on the tail of leaders EFG. A close battle ensued and they finished second place, just a few minutes behind EFG.
The next day of inshore racing took place close to shore in Ras al Khaimah. With very short courses, the racing was intense but thrilling for both competitors and the spectators watching from the dockside. Messe Frankfurt finished fourth overall after suffering a grounding just two boat lengths from the start line of the third race. This was a bit disappointing for the team but their spirit remains high and they now have even more energy and drive to excel in the next leg of the event.
The next leg from Ras al Khaimah to Musandam, Oman is expected to take approximately fourteen hours so the team will be focusing on their endurance to ensure they can power through and push the boat throughout the race. They will also be keeping a close eye on Sidney Gavignet and his crew on EFG to ensure they stay close and challenge them for a first place position.